2009-2011 College Catalog
[ARCHIVED CATALOG]
2009-2011 College Catalog
---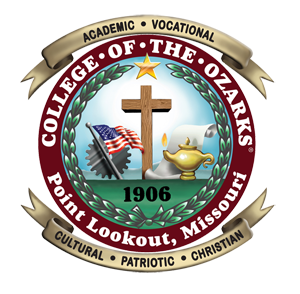 Incorporated in 1906 as The School of the Ozarks
Accredited/Approved
North Central Association of Colleges and Schools
The Higher Learning Commission
30 North LaSalle Street, Suite 2400
Chicago, IL 60602-2504
1-800-621-7440
Missouri Department of Elementary and Secondary Education
P.O. Box 480, Jefferson City, MO 65102-0480
573-751-4212
Commission on Accreditation for Dietetic Education
American Dietetic Association
216 West Jackson Boulevard
Chicago, IL 60606-6995
312-899-0040, Ext. 5400
Missouri State Board of Nursing
PO Box 656, Jefferson City, MO 65102-0656
573-751-0681
---
---
Point Lookout, Missouri 65726
Phone 417-334-6411
FAX 417-335-2618
www.cofo.edu
updated/revised August 2010
Founded by an early Presbyterian missionary, College of the Ozarks is an interdenominational Christian, four-year Work College. Its decidedly Christian nature is reflected by full membership in the Council for Christian Colleges and Universities.

College of the Ozarks subscribes to the Family Educational Rights and Privacy Act of 1974 and is committed to a policy of nondiscrimination on the basis of age, color, handicap, race, sex and national origin in all of its programs and offerings. Nor does the college discriminate against any person or persons on the basis of creed or religion in admissions policies or college-administered programs. On matters of employment, the College relies on its exemption from Title VII of the Civil Rights Act of 1964 as a religious educational institution. Inquiries regarding nondiscrimination policies should be directed to:

Charles F. Hughes, Business Manager
(Compliance Officer)
c/o Business Office
College of the Ozarks
P.O. Box 17
Point Lookout, MO 65726
417-334-6411

All students are responsible for keeping informed of all policies and procedures in this catalog and other official college publications and for meeting the requirements for graduation.

College of the Ozarks makes no claim that any specific course of study will necessarily lead to positions of employment.

College of the Ozarks reserves the right to change any of the rules and regulations of the College at any time, including those relating to admission, instruction and graduation. The right to withdraw curricula and specific courses, alter course content, change the calendar, and impose or increase fees similarly is reserved. All such changes are effective at such times as the proper authorities determine and may apply not only to prospective students but also to those who already are enrolled in the College. The online version of the catalog (www.cofo.edu) will be updated more frequently than the printed version. Prospective students should contact the Office of Admissions for information regarding possible changes. Currently enrolled students should consult the Dean of the College.
---